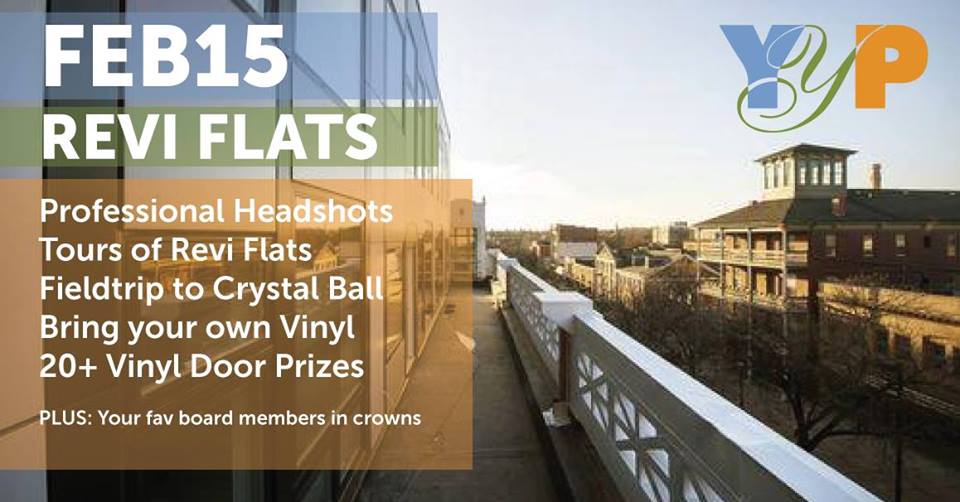 Event details
February 15, 2018
5:30 pm - 7:30 pm
44 W Market St, York, PA 17401
YPP is rolling in hot to REVI Flats (44 West Market Street).
From the ground up, this social has something for everyone.
– Headshots for paid members courtesy of James T. Giffen Photography
– Pretzels, nuggets, cinnamon sugar nuggets, and sliders from York City Pretzel Company
– Off-street Parking! (you heard right…)
– Tours of the newly completed REVI Flats
– Field trips to the newly opened Crystal Ball Brewing Company taproom
– Networking activity
– 2 Drink tickets for beer from Crystal Ball Brewing Company or wine
– Wine from the store and maybe some spirits?
and last but certainly not least…
It's a Bring Your Own Vinyl party. Though, it's more like Take Our Vinyl since we have more than a dozen records to give away courtesy of Whirled Records, Dualtone, Vinylmeplease, The Wild Hymns, Iko's Music Trade, The York Emporium, Magnolia Record Club, HogMaw, Waitin On A Train,Younger Me, and our REVI flat sponsor.
Win records from: Beastie Boys, Jimi Hendrix, Amy Winehouse, David Bowie, Waitin on a Train, Hogmaw, Younger Me, Pearl Jam, Paul Simon, Fiona Apple, Brandi Carlisle, Notorious BIG, The Shins, and many more…over 23 records so far!
You will not want to miss this social. Make sure you are all paid up for the headshots. Heck…tell a friend to join. 60 bucks for a professional headshot AND a year of socials…definitely worth it.
*******
Plenty of parking is available behind 44 West Market. Just go down that not-at-all-sketchy alley off of Beaver Street (Mason Ave)
*******
Not on Facebook? Please email YYP Membership Chair Danielle Makrias at info@yorkyp.com to register for the social.
Not yet a member? Come as our guest and see what YYP is all about. Your first social is on us! Just be sure to RSVP as "GOING" to let us know you'll be coming.
Want to become a member? Visit the YYP website and join today athttps://www.yorkyp.com/join-yyp/.
Let us know if you have any questions! Looking forward to seeing everyone!