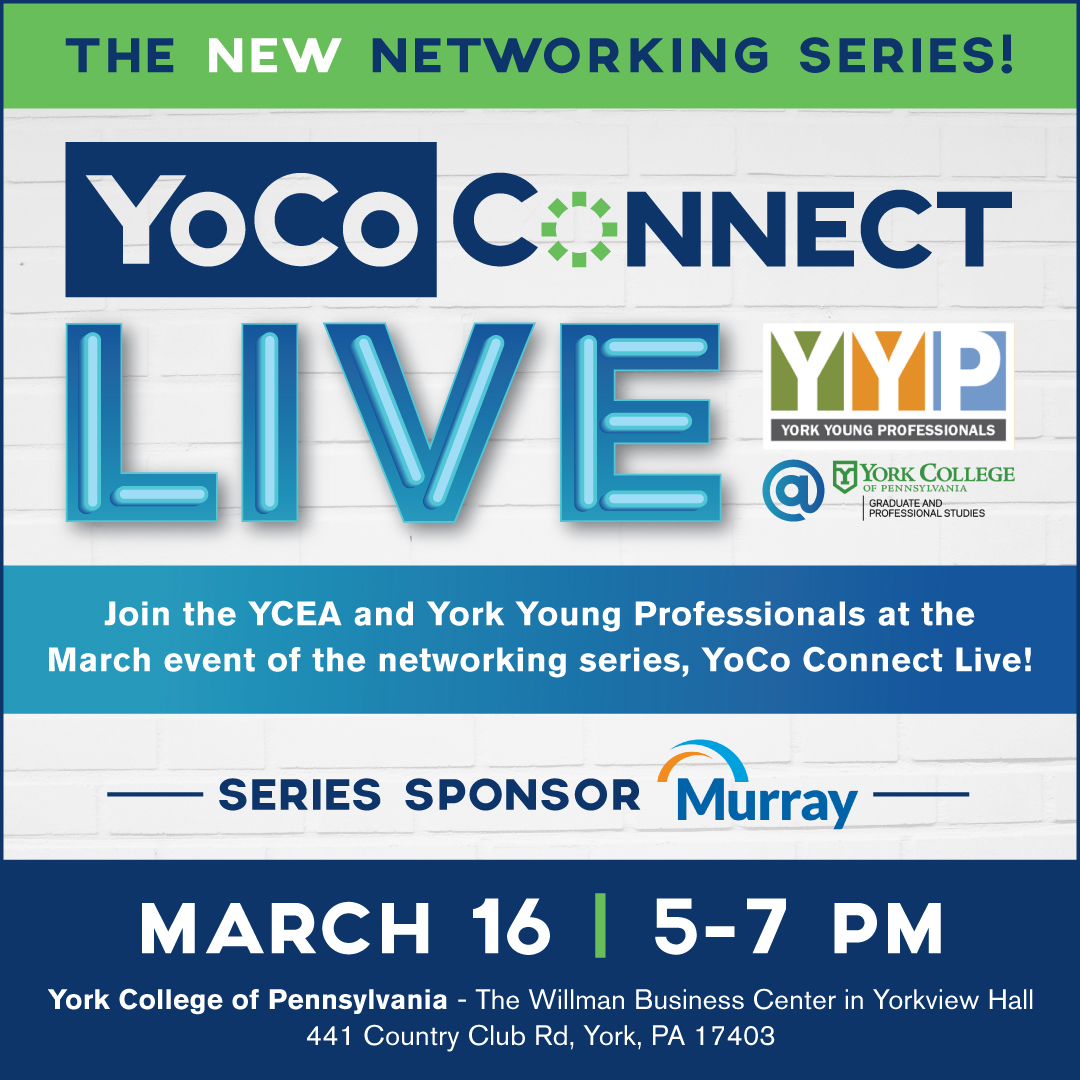 About this event
Join the York Young Professionals and the York County Economic Alliance in March at York College for our 3rd social of the year! Don't forget to register, this is going to be one of our biggest and best socials of the year!
YORK COLLEGE
York College's Graduate and Professional Studies is this month's social sponsor and host. York College is a private, four year college located in the growing city of York. Conveniently located, York College is 1 hour from Baltimore, 2 hours from Washington, D.C, 2 hours from Philadelphia and 3.5 hours away from Richmond, NYC and Pittsburgh. The York Campus sits on 190 acres and is well known for its focus on experiential learning, community engagement and its long standing commitment to affordability and accessibility. This campus is home to 3,500+ undergraduate and graduate students and its dedicated faculty. As part of YYP's affiliation with the Graduate and Professional Studies program, York College offers a 15% tuition discount for all graduate students who are current YYP Members so don't forget to take advantage of this great benefit. We will be meeting in the Yorkview Hall, a multipurpose space enclosed in glass with panoramic views that overlook the city of York. York College will also be providing the food and alcohol for this social. Come prepared to network! For easy instructions to locate the Yorkview Hall please see the video link- https://tinyurl.com/findyorkview
YCEA- YORK COUNTY ECONOMIC ALLIANCE
YYP has partnered with YCEA for this month's social! YCEA is a nonprofit located in the city of York that focuses on companies seeking a competitive edge. As York County's official chamber of commerce and economic development organization, YCEA is the resource center that can provide your business with funding, advocacy programs and events that can help your business thrive. As a current YYP member you have access to all of YCEA's YoCo Connect Live events ( Formerly known as Business After Hours). The YoCo Connect Live Event series is sponsored by Murray (Murray is a local insurance broker serving the Mid-Atlantic and Eastern States Regions of the U.S.) Check out the YCEA Facebook page for more information on their upcoming events!
PILLOW DRIVE
This month we are collecting pillows for Bell Socialization services. The mission of Bell Socialization Services is to provide an environment of support and empowerment where people can improve the quality of their life. This organization provides housing and basic living support through mental health, intellectual disability and shelter service departments. Between these programs Bell goes through about 1,000 pillows a year. So bring a pillow and help support this great cause!
Don't forget to register! This will be the best social yet!
——————————————————————
REGISTRATION POLICY
Members and Guests – Register by 11 a.m. the day of !
—————————————————————
PARKING
There will be parking available on campus. Please see the video link- https://tinyurl.com/findyorkview
—————————————————————-
Please RSVP as 'GOING" on Facebook if you intend to attend and register through Eventbrite.
Not yet a member? Come as our guest and see what YYP is all about. Your first social is on us! Just be sure to RSVP as "GOING" and register on Eventbrite to let us know you'll be coming.
Want to become a member? Visit the YYP website and join today at https://www.yorkyp.com/#join
Let us know if you have any questions! Looking forward to seeing everyone!